We Stop. So You Can Go.
CrowdStrike is the leader in cloud-delivered endpoint security. Leveraging artificial intelligence (AI), the CrowdStrike Falcon® platform offers instant visibility and protection across the enterprise and prevents attacks on endpoints on or off the network. CrowdStrike Falcon deploys in minutes to deliver real-time protection and actionable threat intelligence from Day One. It seamlessly unifies next-generation AV with best-in-class endpoint detection and response, backed by 24/7 managed threat hunting. Its cloud infrastructure and single-agent architecture take away complexity and add scalability, manageability, and speed.
CrowdStrike Falcon protects customers against all cyber attack types, using sophisticated signatureless AI and Indicator-of-Attack (IoA) based threat prevention to stop known and unknown threats in real time. Powered by the CrowdStrike Threat Graph™, Falcon instantly correlates 2 trillion security events a week from across the globe to immediately prevent and detect threats.
There's much more to the story of how Falcon has redefined endpoint protection but there's only one thing to remember about CrowdStrike: We stop breaches.
Falcon Endpoint Protection
CrowdStrike Endpoint Protection Platform
Unify The Technologies, Intelligence and Expertise Required to Successfully Stop Breaches
Stop Breaches With Unified Endpoint Protection Delivered From The Cloud
The Falcon Platform is flexible and extensible when it comes to meeting your endpoint security needs.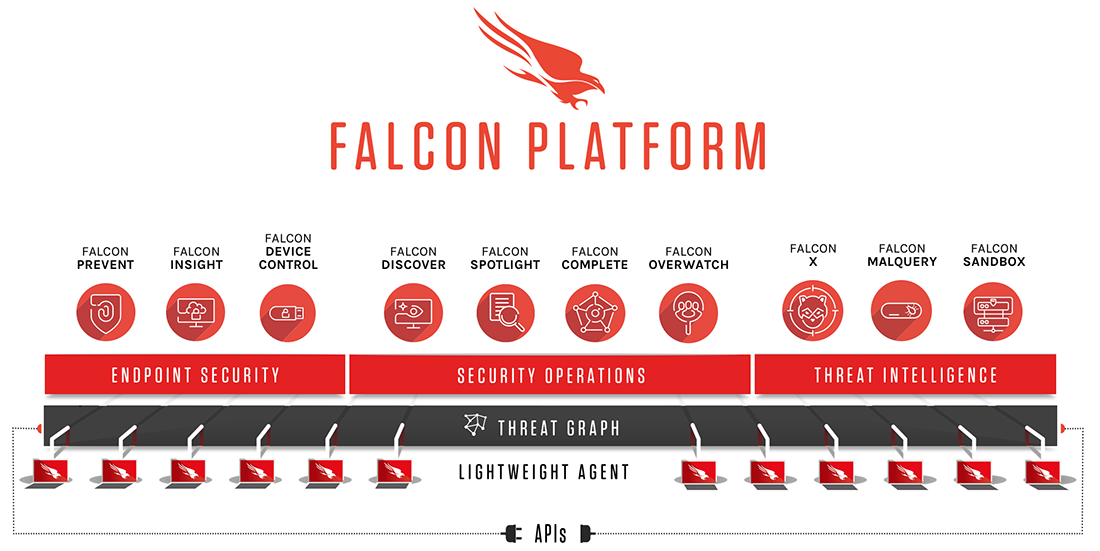 Next-Gen Antivirus
NEXT-GEN AV SOLUTION:
ENDPOINT PROTECTION PRO
Falcon Endpoint Protection Pro offers the ideal AV replacement solution by combining the most effective prevention technologies and full attack visibility with built-in threat intelligence — all in a single lightweight agent.
Market-leading NGAV proven to stop malware with integrated threat intelligence and immediate response - with a single lightweight agent that operates without the need for constant signature updates, on-premises management infrastructure or complex integrations, making it fast and easy to replace your AV.
Incident Response
Recovery and Remediation Starts on Day One
WE GET YOU BACK TO BUSINESS FASTER
Our incident response team accelerates the speed of remediation by providing the most comprehensive view into attacker activity so you can resume business operations faster. CrowdStrike's incident response services will help your organization:
Identify how attackers are accessing your environment
Determine how to mitigate attacker's existing access
Track future actions and prevent future access
Ransomware
Cloud-delivered endpoint protection that stops online extortion
HOW RANSOMWARE PROTECTION FROM CROWDSTRIKE WORKS
Because attackers can and will shift their techniques, CrowdStrike's next-generation endpoint protection solution, CrowdStrike Falcon, uses an array of complementary prevention and detection methods:
Detect & Block known Ransomware
Exploit blocking to stop the execution and spread of ransomware via unpatched vulnerabilities
Machine learning for detection of previously unknown "zero-day" ransomware attacks
Indicators of Attacks (IOAs) to identify and block additional unknown ransomware, and protect against new categories of ransomware that do not use files to encrypt victim systems
CrowdStrike Falcon uniquely combines these powerful methods into an integrated approach that protects endpoints more effectively against the menace of ransomware. This protection spans known and unknown ransomware — and even prevents "file-less" ransomware that is invisible to conventional malware-centric defenses.